JOIN US
Encompass Canada is an association of users, customers, and IT professionals representing a broad spectrum of organizations and companies that are involved in the use and marketing of HP products and services in Canada. Visit our members area to sign up for a free membership.
NEWSLETTER
Past issues of the association newsletter are archived in the Library Area of this site.

PLEASE NOTE THAT THIS WEB PAGE IS HOSTED ON ENCOMPASSCANADA.CA - A TEMPORARY STAGING SITE FOR CONTENT DEVELOPMENT WHILE OUR MAIN SITE AT ENCOMPASSCANADA.ORG IS BEING RELOCATED AS PART OF THE USER GROUP'S RELAUNCH PLANS FOR 2016.
Reappointment of EARLUG Chair
As the Emonton Area Local Users Group of Encompass Canada begins
yet another year (34 and counting) I am pleased to announce the
reappointment of Gordon Millard as Chair of the EARLUG Executive.
As always, the Chair can be reached at chair@earlug.org.
Congratulations Gord! (Next year you should remind us that the term
ends in April, and that a new appointment is needed... otherwise you
may end up getting reappointed year after year after year ;-)
Bill Korendyk
Vice-Chair, Communications,
Edmonton Area Local Users Group (EARLUG)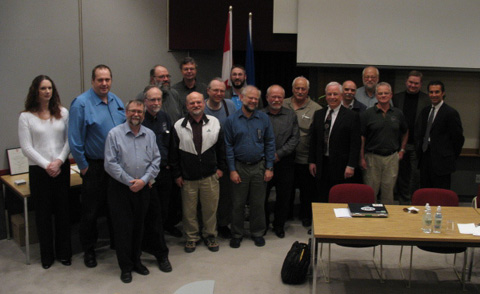 EARLUG members attending the 30th Anniversary celebrations several years ago in April 2007 at the Alberta Research Council.
New Directions in New HP Users Global Community
Encompass Canada, established in 2001 to better serve users of existing Compaq and Digital technologies at the time, underwent further changes several years afterwards to accommodate users of HP technologies. With the recent global restructuring of the HP users community, Encompass Canada once again is seeking new directions to not only better represent Canadian HP users but also work with other HP users communities in both Canada and around the world as part of the new, independent global HP community.
In the days to come we will be evaluating how Encompass Canada can continue to best serve HP users in Canada. Our Board will be communicating and consulting with our membership, other user groups in Canada, and HP partners and sponsors who have supported us throughout the years. Developments in our process 'to catch up with the world' will be posted on this Web site.
In the meantime, we will continue to update and upgrade this site so that it can become a more effective communication tool for Encompass Canada. We are aware that many of our new members have experienced challenges in the sign-up process (or lack thereof) for membership registration. This is one of the areas we will be tackling once additional time and resource becomes available.
Newsletter Response Indicates Renewed Interest in
Bringing HP Releated Events Back to Canada
Feedback from our recent newsletter has indicated renewed interest by our members in attending HP related events in Canada. We are in the process of exploring topics and venues that include continuing our popular technical seminars series to bringing a VMW Technical Update Day event to Canada.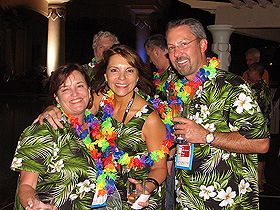 Who said everything in Vegas stays in Vegas? Encompass Canada President, Dave Wilson, who attended last year's HPTF & Expo sent us this photos of the luau event. (l to r) Connect Executive Director Kristi Browder, then Connect President Nina Buik, and HP Delegate Brad Harwell